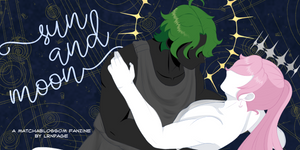 The Sun and the Moon were fated lovers, happy as can be, until they were cursed by a jealous God. Will they find each other and learn to live with the curse? 

34 page full colour doujinshi. 100mmx210mm. 

This is the shortened fanzine version of my own original comic Sun and Moon. It features the ship matchablossom and will be sold in limited quantities as a physical product. Please note this is a digital download, you will not receive a physical copy of this book.